The Big Bike Film Night is on a mission – bringing the best cycling short films from around the world together for you!
Our 2024 collection (would you believe our 10th collection!) has a breath-taking range of short movies that are original, informative, entertaining and most importantly of all – inspirational; all celebrating the fun, adventure, and joy that cycling enables, with human-powered stories.
So whether its road cycling, single-speed, mountain biking, downhill, BMX, uni-cycling, cargo bikes, bike touring, recumerent, bike trekking, commuter, cruiser, cycle-cross, penne farthing, tri-cycle, tandem, … phew…. ALL are embraced, ALL accepted, and ALL honoured in this tribute to the humble bike.
Looking forward to seeing you at one of our upcoming screenings!
For our New Zealand audiences, as well as our short film collection, we have the Big Bike Film Night 'Feature Series' for those that crave even for more bike drama, more bike action, and more bike entertainment with inspiring Feature length cycling documentary films.
These will be shown when we can find films that we believe inspire and entertain our audiences.
Dreaming big, and going BIGGER!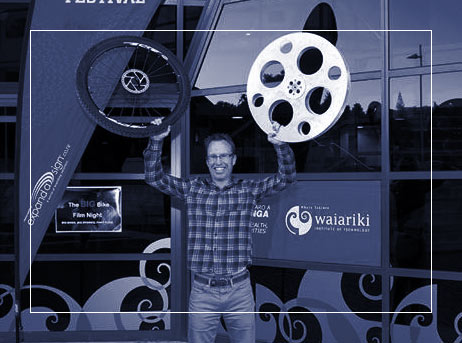 Brett Cotter – BBFN Film Pedlar | Photo: Alick Saunders
OUR GLORIOUS SUPPORTERS
Without their help, none of this would be possible.